Blog
How Bump.sh works with… remote work?
How Bump.sh works with… remote work?
Ever since a certain pandemic, remote work has become increasingly popular. It was enforced by lockdowns, adopted long-term by some teams, and criticized for allegedly hampering productivity. Lately, some companies have been reversing their approval of remote work. On the other hand, entire teams are advocating for it to become the norm.
Our version of remote work has its own unique story. Legend has it that our two founders, Anthony and Sébastien, climbed to the top of the tallest building in France and held iPads to the sky to be etched by lightning with the founding principles of what would become Bump.sh.
Predictably, that wasn't covered by the warranty.
The usual suspects
Our journey with remote work is a long story that began well before the pandemic. We have always had some portion of work-at-home (or elsewhere) in our previous professional experiences. Occasionally, for awaiting for a plumber or a delivery (that you missed. with no notice. and the delivery person rang but looks like you weren't at home. too bad.). Sometimes, a few days were spent working in peace, without the hustle and bustle of an open-space office. Or every week, because you lived far from the office and only drop by occasionally.
Each in our own way, we gradually came to the conclusion that remote work is a natural way of working for us. It's aligned with how we view our work-life balance and our relationship with our team.
You are probably familiar with the reasons.
The ability to work from anywhere. Whether it's in the capital or in the remote countryside of Loire-Atlantique, an apartment or a cabin, or even if you want a change of scenery and decide to work astride a wild horse in Camargue.
The gained autonomy has an undeniable impact on our daily life and overall well-being. The freedom of remote work means we can take our dog for a morning walk, see our kids off to school, or make a homemade lunch.
Some of us take some time to go to the gym. Others would paint, play an instrument or fight a deadly threat hidden among the stars. Whatever. It's about having control over our day. We can seamlessly blend work and life without compromising on either.
Not being geographically confined also allows us to recruit talent, wherever they may be (including in Camargue). By removing the constraint of a physical location and mandatory presence, we avoid the risk of missing out on individuals who have chosen to live where they feel their best.
Our magic recipe
Upon your arrival at Bump.sh, you will be faced with a crucial choice. Seated behind a desk, dressed in a black leather coat, one of our co-founders will present you with a crucial decision. In their right hand, the option to work remotely from the comfort of your home. In their left hand, the opportunity to work in a coworking space, as you may crave social interactions and the company of others.
Once you have made your decision amidst breathless anticipation, they will explain that you can also mix it up occasionally. Nothing is set in stone. The idea is to create the best working environment for us. It could be a dedicated room at home (some even have verandas for that purpose). Sometimes, the need arises to experience the adventures and dramatic twists of a coworking space once or twice a week (it's better than a telenovela).
To facilitate daily communication, we have implemented meetings with one significant constraint: almost no one likes meetings. We are constantly seeking the best formula for this format, but we have arrived at a result that is starting to please us.
There are two main teams at Bump.sh (Product, which includes our engineers, and GoToMarket) that have a weekly meeting to discuss current topics. Then, there is an All-hands meeting where a representative from each team presents a summary, providing everyone with an overview of where things stand and how everyone is progressing.
Of course, we needed effective means to compensate for the absence of the sacred Coffee Machine for informal discussions. To address this, we have a daily reminder and a voice chat lounge where we can exchange stories and share our current moods and experiences.
This is where the importance of using the right tools to stay up-to-date comes into sharp focus. You're familiar with the classics: a shared calendar, a few emails, a well-known professional chat tool that we won't mention just to add a few lines to this article without shame or remorse.
How do you indicate that you're open to a coffee chat with the rest of the team? A slot on a shared calendar? A specific status on that infamous tool-whose-name-we-won't-speak? An emoji? A dedicated channel?
Like many of you, we use Slack as our primary communication tool. We also tried Gather.town, but unfortunately, it didn't resonate with everyone. For a long time, our meetings took place on meet.coop, an open-source video conferencing solution. However, their announcement of discontinuing the service in the coming months pushed us towards new horizons (which we are still exploring).
Collaboration at Bump.sh revolves around well-known figures in the industry. Our internal knowledge base, project management, meeting notes, and article drafts find their place on Notion. The hottest designs in your area can be found on Figma. And our Engineering team works continuously (*wink*) with GitHub. In fact, discussing our tools alone would warrant an article, but we wanted to give you a glimpse.
Of course, working remotely doesn't mean we live as reclusive hermits, in our cabins deep in the woods, munching on raw roots.
All it takes is to look up to see the signs: a planetary alignment, a constellation that shines a little brighter than the others, or even a meteor shower. These are the heralds of our famous and popular In Real Life (IRL) meetups.
Travelling across the country, we gather in secret locations to celebrate APIs and our joy of working together. These are days of jubilation where we work studiously and feast like never before, returning to our huts and leaving behind the most mysterious secrets about these gatherings.
To be more precise, every 3 months, we organize an IRL (In Real Life) gathering to make up for missed after-work events and lost time. We select a location that accommodates everyone, with each event held in a different place from the previous one. We set a date, rent a nice space where we can both work and have fun. Around that, we plan various activities, evenings, board games, a few bottles... and the rest becomes part of the story.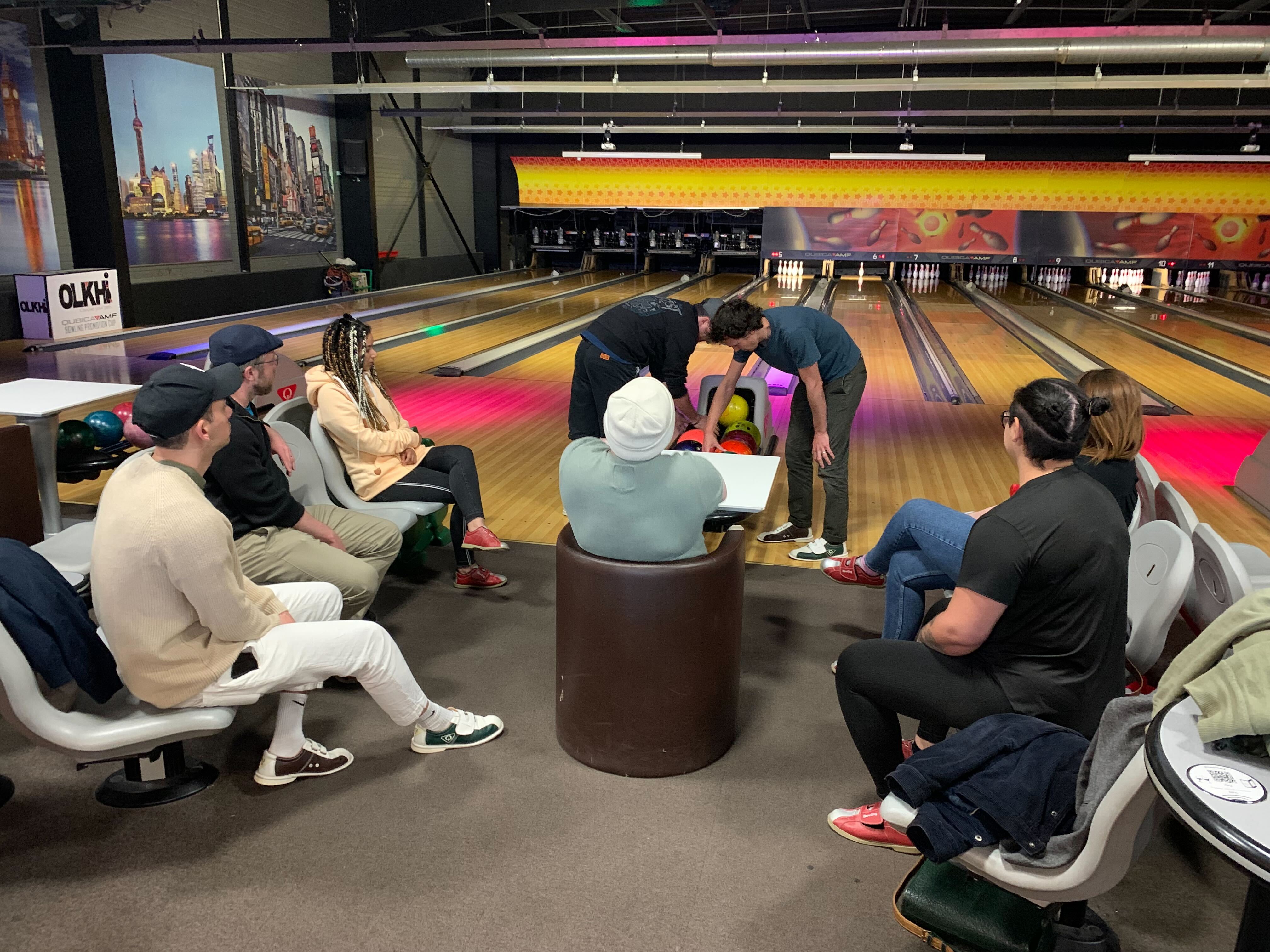 It can be that smooth, right?
But here's the thing, remote work sometimes feels a lot like real office work, the kind with the accounting department giving you side-eye at the coffee machine ever since they noticed that strange overconsumption of post-its in your department. Don't deny it, the numbers never lie, they know.
There will always be those moments of frustration when communication is challenging. Or a written message causes teeth to grind due to its borderline tone. Or you think that this issue could have been solved in two minutes if you could have just gotten up and showed your diagrams at the neighboring desk.
We also might miss inviting a colleague for a drink after work. Or having a chair race in the open-space office (don't do this, it's highly risky and generates a lot of paperwork for HR, we won't back you up).
But just as office work has its own challenges to overcome, we find ours much more comfortable to face. While working from home demands compartmentalization, discipline, trust (in oneself and in others), we still find ourselves in a healthy, comfortable, and caring environment.
One could commute, wait for the elevator, settle at their desk, and keep an eye on the clock to await that perfect timing when taking a break won't offend anyone. Or one could work from home, on their sofa under a blanket with a good cup of coffee/tea within reach.
But in the end, we all face the same situation: working together primarily means communicating with the tools we have. No one ever said it would be easy. But nothing stops you from making it more comfortable, inclusive, and warm for others and yourself.
That's what we strive for at Bump.sh. And we have no intention of giving up.